1843 Mateo Benedid -Classical Spanish Guitar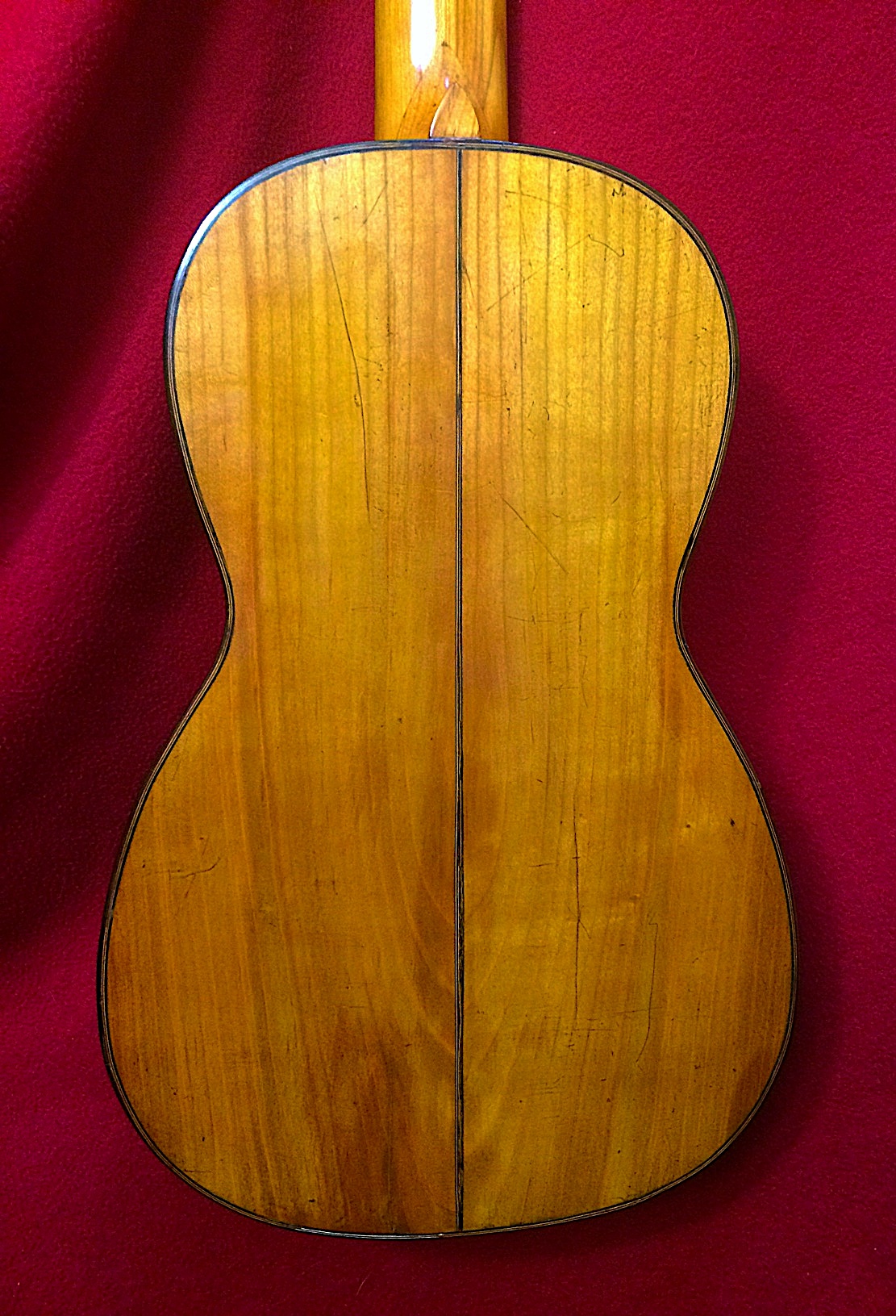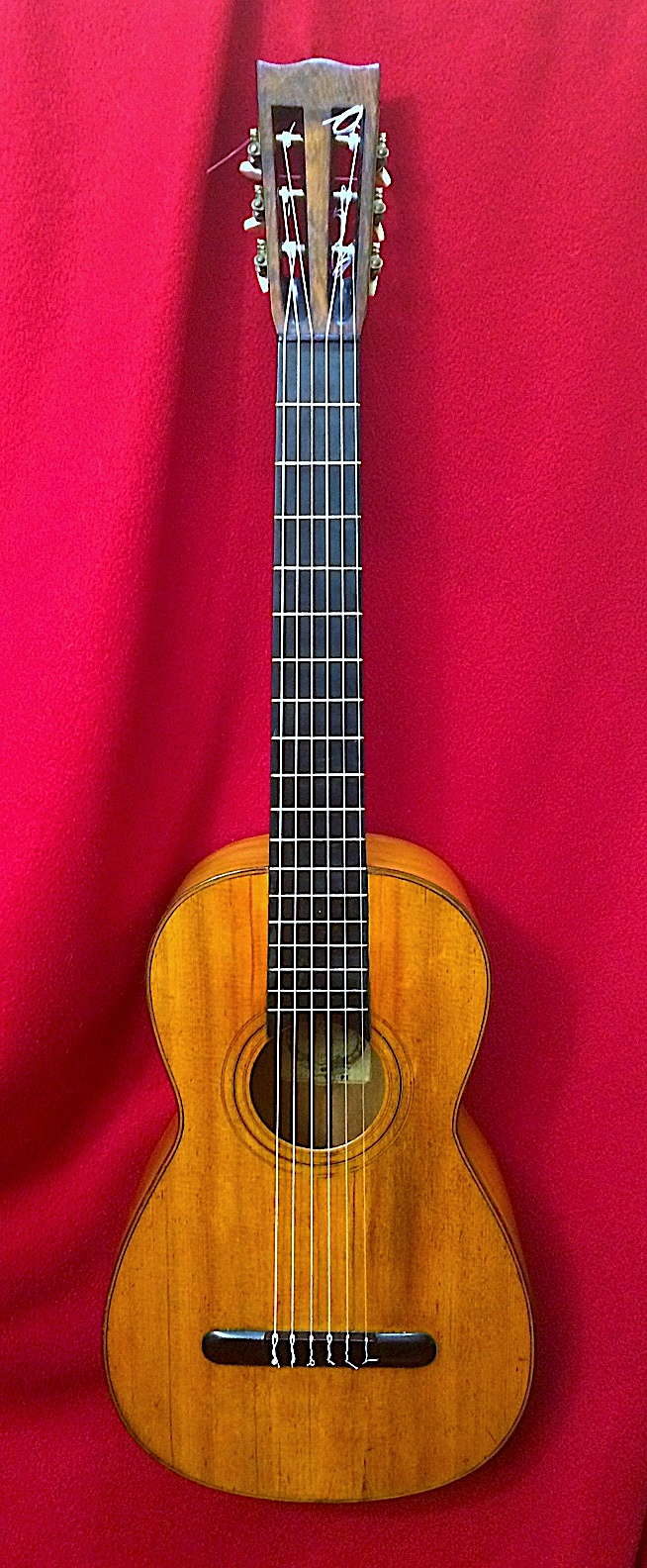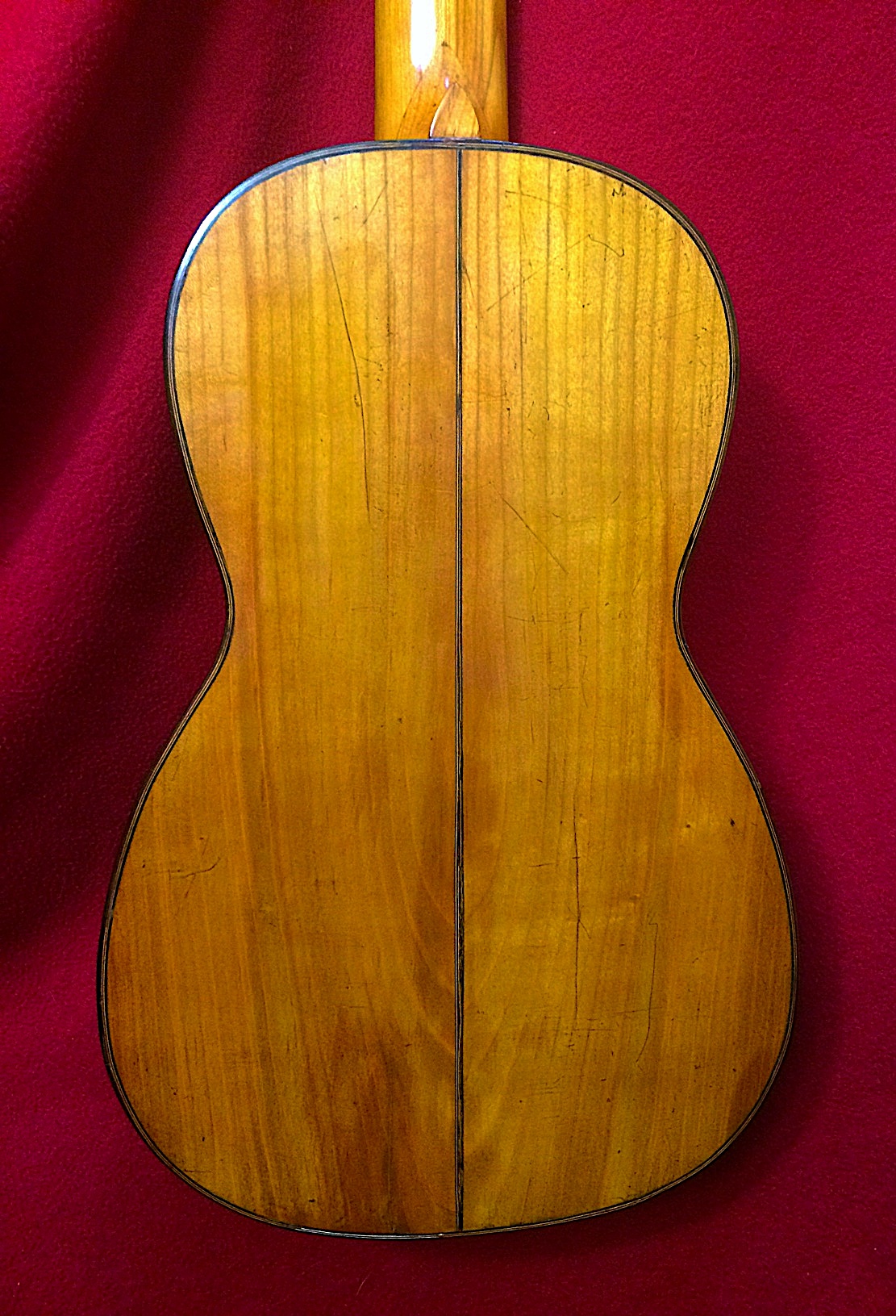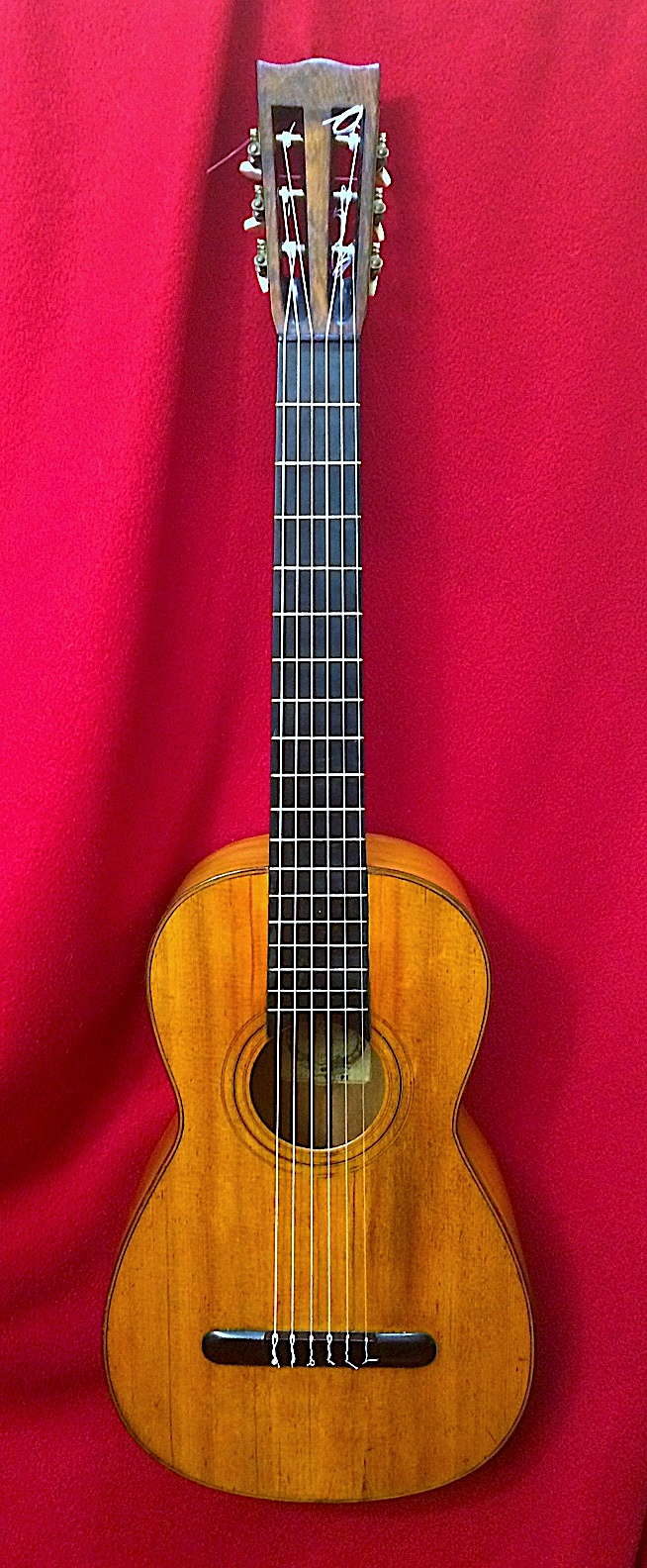 1843 Mateo Benedid -Classical Spanish Guitar
Make: Mateo Benedid Diaz
Model: Spanish Guitar
Model Year: 1843
Top: German Spruce
Back & Sides: Birch
Scale: 610mm
Nut: 48.5mm
Finish: French Polish
Tuners: Baker machine tuners
Country: Spain
Condition: Used - very good
Location: USA
Price: Inquire
Born in Cadiz Mateo Benedid (1800-1878) was one of Josef Benedid Diaz (1760-1836) two sons, the other being Joaquin Benedid Diaz (1814-1854) who like their father were celebrated guitar makers. In his guitar method, Fernando Sor notes that "The guitars which I have always given the preference are those of Alonzo of Madrid, Pages and Benediz of Cadiz, Joseph and Manuel Martinez of Malaga, or Rada, successor and scholar of the latter, and those of M. Lacote of Paris."
In 1843, when this guitar was made Mateo Benedid was living on the calle Herron, 132 with his wife Maria de los Dolores Sosa, and five children (one boy, and four girls). Two years previously, their two year old daughter had died, but his wife had just given birth to another daughter. Besides his own family, five members of his wife's family shared these quarters. By 1845, his wife seems to have died, but he continued with his immediate family and in-laws. The picture that emerges is of a poor, hardworking guitar maker struggling to provide for a large family. Ultimately, he seems to have failed, and dies in 1878 in the Casa de Misericordia in Cadiz.
This 1843 Mateo Benedict guitar made in Cadiz, Spain originally belonged to Captain John Bautista Rogers Cooper (1791-1872). The captain was born into a maritime family in Massachusetts, and arrived in Monterey, then the capital of Mexican Alta California in 1823 as master of the ship Rover. In 1827, he married Geronima de Encarnacion Vallejo (1809-1902) who was the sister of General Mariano Guadalupe Vallejo (1808-1890) who later became the military governor of Alta California.
Although in 1826 Captain Cooper sold the Rover and became a trader and rancher, he eventually returned to the sea. Between 1838 and 1844, in command of the Mexican Government's ship, the California, he sailed regularly up and down the coast between Monterey and Acapulco, (the nearest port to Mexico City) carrying mail, prisoners, and officials. In 1846, he made a voyage to Peru, and in 1849 as master of the Eveline, he sailed to China. The Captain seems to have picked up this 1843 Mateo Benedid guitar during one of his voyages between Monterey and Alcapulo between 1843 and 1846.
When Capitan Cooper died this guitar passed to his daughter Amelia Cooper (1844-1918) and then to her daughter Frances Mary Molera (1879 -1968), who was the former owner, T.N.'s (born 1938), grandmother's first cousin. T. N. knew her Aunt Frances (Fanny) well, and it was Frances who gave her this guitar.
Feeling it would be a shame if this guitar's 175 year history in California, as the personal property of these Monterey pioneer families could be lost, I asked T.N. to write down what she knew of it's history. She did this, and provided a few key pages from a book that she annotated to help one understand how this guitar descended through the family of General Vallejo to her. I purchased this guitar in August of 2017.