1958 Marcelino Lopez Nieto Concert Classical Guitar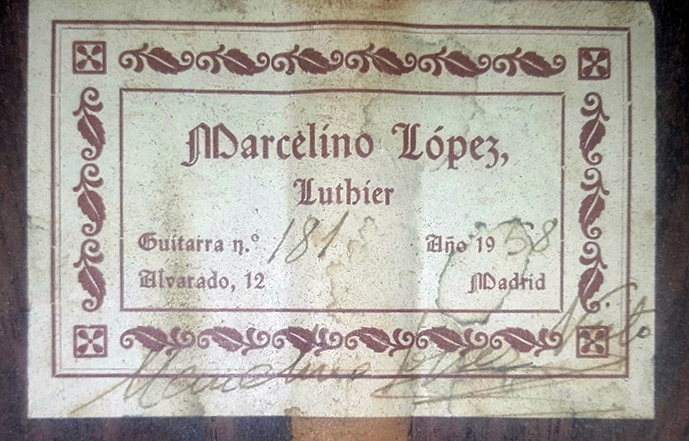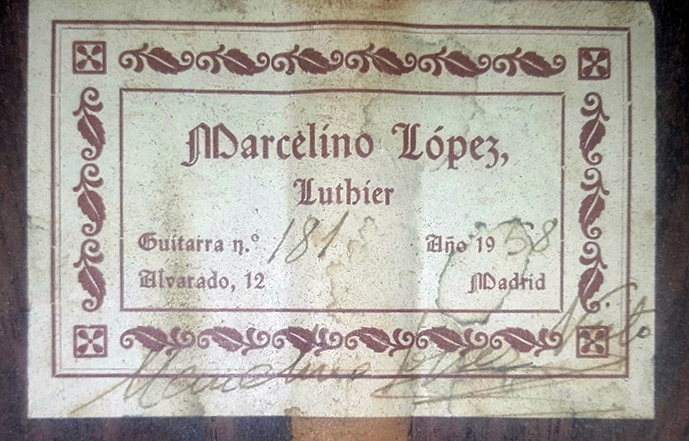 1958 Marcelino Lopez Nieto Concert Classical Guitar
Make: Marcelino Lopez Nieto
Model: 1a Concert Classical Guitar
Model Year: 1958
Top: German Spruce
Back & Sides: S. American Rosewood
Scale: 664mm
Nut: 52mm
Finish: French polish
Tuners: Fustero deluxe
Country: Spain
Condition: Used - Excellent
Location: USA
Note: NOTES: This guitar contains rosewood (dalbergia), and cannot be exported without a CITES permit.
Born in 1931, Marcelino López Nieto was a cabinet maker before becoming a guitar maker. He was drawn into making guitars, because he was studying with Daniel Fortea, and wanted a fine guitar, but could not afford one. He established his own workshop in Madrid in 1949. Although, he confesses that as a luthier he is largely self-taught, he informally learned much the theory of his craft from the widow of Santos Hernandez, and from his nephew Feliciano Bayon in whose workshop he hung out regularly as did many of the leading musicians of the time. He also worked for a time making guitars for Hernandez y Aguado, when Aguado retired. Marcelino is a complete luthier, and makes not only fine classical and flamenco guitars, but historic guitars and ancient instruments.
This guitar was made in 1958, and is number 181 in his life time obra. The label is signed, dated, and numbered. The guitar has been well-cared for over the years. There are a few scratches in the rosewood back and sides, but the guitar is French polished, these could be covered over easily with a thin refresher coat of French polish over existing finish. There appears to be a tiny separation in the back along a part of the seam, but is not noticeable unless you look for it. The separation is about the width of a straight pin (see photo). This is an easy repair at this point— rubbing a little warm hide glue into the separation and cramping it to seal it and covered with a bit of French polish. This guitar is set up well, and has wonderful tonal qualities. Marcelino is still making guitars. He is also one of only five living Spanish makers included on Summerfield's list of the finest guitar makers since 1800, and his guitars have been avidly collected for many years.